Rich Special Materials Co., Ltd is a high-tech enterprise specializing in R&D, production and sales of the sputtering target materials and special alloys.With headquarter in Beijing and manufacture in Tangshan Industrial Park, Hebei province, we provide sputtering targets for a wide range of applications from mold coating, decorative coating, large area coating, thin film solar cells, data storage, graphic display, large scale integrated circuit, etc.
In order to meet the needs of customers in different scenarios, we also provide customized services for many material users at home and abroad. The R&D team of the company has nearly 20 years of experience in material research and development, production and application, and carries out cooperation with many universities, research institutes and enterprises all year round.
The following are our main products:
Sputtering targets: Ni, Cr, Ti, Co, Cu, Cu, Al, Co, Hf, Fe, W, Mo, Ta,Zn,Sn,Nb,Mn,Au,Ag,In,Pt,Y,Re and other metals and precious metals target. NiCr、NiV、NiCu、NiCrAlY、CrAl、CrAlSi、TiAl、TiSi、TiAlSi、AlSnCu、AlSi、Ti+TiB、CoFe、CoCrMo、CoNbZr、CuAl、CuZn、CuNiMn、WTi、CuAg、CuSn、SnZn and other alloy target materials ; TiB2、MoSi2、WSi2 and other Ceramic target materials. Our target business products are widely used in mould coating, decorative coating, large area coating, thin film solar cell, data storage, graphic display and large-scale integrated circuit, etc.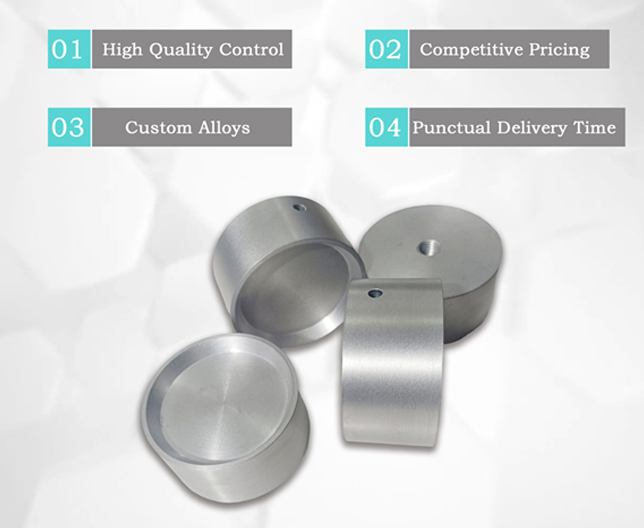 Special alloys: Stellite, K4002, K418, GH4169, GH625, Inconel600, Hastelloy and Monel are widely used in the fields of high temperature, corrosion resistance, wear resistance; Elastic alloys, expansion alloys and soft magnetic alloys: such as 3J21, 3J53, 1J79, 4J36 and 4J52 produced by us have excellent performance.
High purity materials:Company distribution of high purity iron, high purity copper, high purity nickel, electrolytic chromium flake, chromium powder and titanium based alloy powder, as well as 3D printing powder, are welcomed and trusted by customers for stable quality.
With the strong technical strength, advanced production equipment, and the rich experience in material development, Our company specializes in providing material R &D and vacuum melting experimental services for scientific research institutes and enterprises, Including aluminum series alloys, copper series alloys, iron series alloys, nickel series alloys, cobalt series alloys and high entropy alloys, and provide the smelting of precious metals.
We have passed the certification of "ISO9001:2015 quality management system", and joined the member of guilds, such as China Vacuum Society and Guangdong Vacuum Society. The company will be with strong scientific research strength, strict quality management and professional after-sales service dedicated to provide you with high quality, reliable products and related solutions.